Keeping your customers updated with your latest offers, delivery updates, appointment reminders, or purely giving them easy access to relevant information, is key to engaged and happier customers.
Ever since the first text message was sent over 25 years ago, businesses have been using SMS to connect with their customers. SMS boasts an unparalleled open rate of 95%, which on its own is outstanding, but when compared to email at 25% it's clear that SMS is the most effective method for communicating with customers.
SMS has very recently taken a step forward with the introduction of rich messaging which comes in the form of RCS, an improved way of using SMS to connect with consumers. Because RCS is a huge step forward in customer experience, it will take some time to be rolled out to all mobile users. However, in order for businesses to benefit from the effectiveness of rich messaging today, and provide great customer experience, we have developed our Landing Page product. This ensures that all end users can receive a rich, more engaging message
SMS Landing Pages is part of Esendex's rich message builder, Messaging Studio. It enables brands to design and send a dedicated mobile landing page, giving the end user a better mobile experience. By using images, extra text, and call to action buttons, businesses can increase customer engagement whilst still using SMS as the delivery mechanism.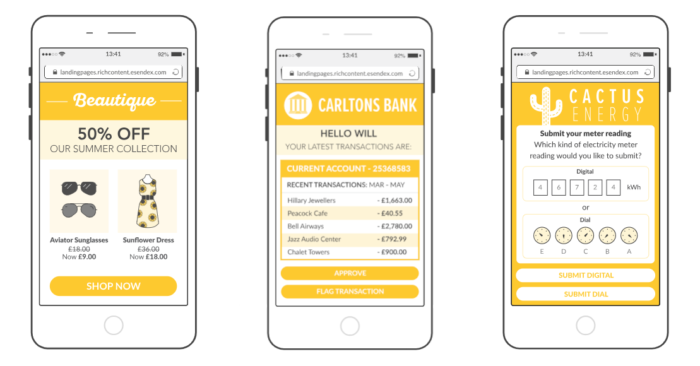 The different ways to use SMS Landing Pages
Sales and marketing
The end goal for all businesses is to sell their products or services. Promoting a sale or showcasing your latest line of clothes in the easiest and most effective way is vital. SMS Landing Pages has been a great success for our retail customers with some impressive results, take a look at one of our customers who doubled their sales when they switched to SMS Landing Pages.
With it being easy to upload an eye-catching image, include extra information about your product or sale, and a big button where your customers can click to make a purchase, SMS Landing Pages is the perfect solution for sales and marketing.
However, it is not just retailers that can use it to promote and sell. Estate agencies are using it to showcase their houses and to help get more house viewings. Takeaways and restaurants use it to promote their amazing dishes and utility providers supply bills and links to payment portals.
Updates and alerts
As we said at the beginning, updating your customer is key to a better customer relationship. By using dynamic fields on your landing page and personalising the content to the end user with their name, recent purchase, delivery information, financial information and more, this will help give the user a better experience and help to increase conversions.
Using dynamic fields means SMS Landing Pages can be used for a wider range of activities than a simple text message can.
Delivery updates – include information on your customers latest order, when it will be delivered, and a button they can click to change delivery day and time that will take them through to a website or booking system.
Personalised statements – instead of asking customers to log in to see their personal statement, this can be created and sent with an SMS Landing Page.
Fraudulent activity alerts – if you suspect fraudulent activity, whether an unusual purchase or multiple login attempts, you can send your customer an SMS Landing Page explaining what has happened and ask them if they recognise the activity.
Reminders
The NHS lose £216m every year due to missed GP appointments, which is why they implemented an SMS communication plan to remind patients of their appointments. In the UK SMS is used across various different healthcare providers, from doctors to dentists, physios to osteopaths and more. By using SMS to remind customers about their appointments they are able to reduce no shows and improve customer service.
Appointment reminders are just one of the ways SMS Landing Pages can be used as a reminder service, with restaurants using it to remind their customers about table reservations, financial service providers reminding customers about their future payments, and if they are yet to pay, to remind them of their debts.
In February 2016, Brighton Hove City Council sent 194 text reminders with 66% of customers paying (Source: BHCC)
Giving a customer more information on their debt or payment, rather than just sending them a standard text messaging telling them they owe money, will help them understand what is owed and when it needs paying. This means that since all the information they require is in one place, with a button to make the payment, the probability of them paying will more than likely increase.
Providing more information
It can be hard to include all required information in one text message, and even extending this to a 4-part message where your customers are required to scroll through to read it all is not the best solution either. Nor is sending 4 individual text messages, even if they are one after the other, your customers won't be happy with the bombardment of text messages.
Storing all this information on an SMS Landing Page and then sending one text message telling your customers everything they need is in one place, is the perfect way to keep customers informed and happy.
SMS Landing Pages can be used to store information on an event, legal requirements, and directions to your store where you can also include a map.
These are just a few of the ways that businesses can use SMS Landing Pages. If you would like to try SMS Landing Pages, please get in touch today on 0345 356 5758 or email us at sales@esendex.com.