What are SMS Surveys from Esendex?
SMS Surveys from Esendex are a fantastic way for businesses to get more information needed to improve customer's experience. By sending a series of questions via SMS, audiences will be able to provide data at any time or place. Senders will also be able to enjoy higher response rates, without the need to send letters or make manual calls.
Our online platform makes it easy to design your own intelligent surveys and analyse live results, so that agile business improvements can be made in the fastest way possible.
Use Cases
SMS Surveys in action
Satisfaction surveys
Market research
Data cleansing
Staff surveys
Event planning
Satisfaction surveys
Finding out how happy your customers are is made easy by sending surveys via text message.
You'll be able to quiz your customers in a way that increases the chances of them responding, and then take an in-depth look at their answers and opinions in an easy to use dashboard environment.
You can then make the changes needed to your business, which will help provide better products and services, and keep your customers happy.
Market research
By sending a series of engaging SMS messages you'll be able to gain the insight you need from your audience to grow your business.
Find out what potential new customers needs and motivations are, identify new markets to explore and measure brand awareness.
SMS surveys provide all this by targeting your audiences mobile devices, which in turn ensures the highest response rate, in the fastest way possible.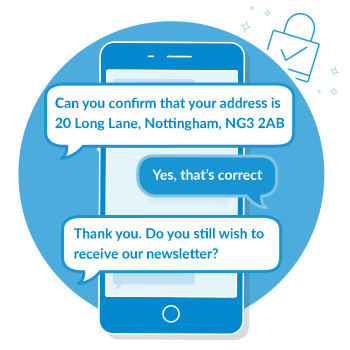 Data cleansing
It's essential for successful businesses to regularly update their customer data to ensure that the correct communications are being sent to them.
SMS Surveys present an easy and cost effective way to do this (when compared with traditionally used channels like post and manual calls).
Our surveys allow businesses to ask a series of questions which make sure that their customers personal details, preferences and requirements are all up to date. These questions can all be answered at a time and date which suit the customer, with their answers being fed back via a periodic report.
Staff surveys
Need to find out how happy your staff are working for you - or would you like to know how they feel about a change to your business? Why not send them a text message survey.
Our SMS Surveys are a great way to collect employee feedback. By targeting their mobile devices staff can carry out surveys at any time with no need to be in the office.
You'll then be able analyse the results, and make the changes required to make sure your staff are happy.
Event planning
SMS Surveys provide an innovative way for businesses to organise events, where each attendee's unique requirements need to be catered for.
By sending a series of simple SMS messages you'll be able to confirm attendance and contact details, take menu choices, and arrange any special access requirements your attendees might have.
You'll also be able to store all of your attendee's replies to help you organise your event more effectively.
So what are the benefits?
Reduce
costs
Save money collecting data, when compared to traditional communication channels like post and manual calls.
High response
rates
By targeting your audiences mobile devices you'll increase the chances of receiving the feedback you need.
Added
convenience
Your audience will be able to provide feedback at a time and place which, suits them best.
Easy
integration
Our SMS Surveys can be integrated into your existing systems quickly and easily.
Better
business decisions
Using the data you collect, you'll make more informed, faster business decisions.
Build
in minutes
Our simple to use platform makes it easy for to set up surveys quickly and easily.
Easy to
analyse results
The SMS Surveys dashboard makes it easy to view live survey results, and create reports.
Don't just take our word for it
How do SMS Surveys work for our customers?
Boosting Customer Feedback Rates using SMS Surveys for Vaillant Group.
Vaillant looked to build on their existing SMS staff communications, by providing their customers with an engaging way for their customers to provide feedback on site engineer visits. Find out how Vaillaint made improvements to their service by using SMS Surveys.
What can SMS Surveys do for my business?
SMS Surveys which will help you make faster, smarter business decisions. Here are the features that will help you get there.
Build your
own survey
Our easy to use platform will allow you to start asking your audience targeted questions in a matter of minutes.
Ask the
right question
The Esendex SMS Survey platform allows you to ask questions requiring YES/NO, NPS, and free-type answers.
Completely
customisable
Make surveys more engaging for your audience by personalising them with each recipient's details.
Real-time
dashboard
Track how your SMS Survey campaign is performing, and analyse individual responses as they arrive.
Linear or
branched surveys
Ask a series of chronological questions, or ask specific questions based on answers to previous questions.
Triggered
surveys
Has your customer completed an action like completing an order? Why not send them an SMS Survey to find out how it went.
Want to learn more about SMS Surveys?
Let us know how we can help