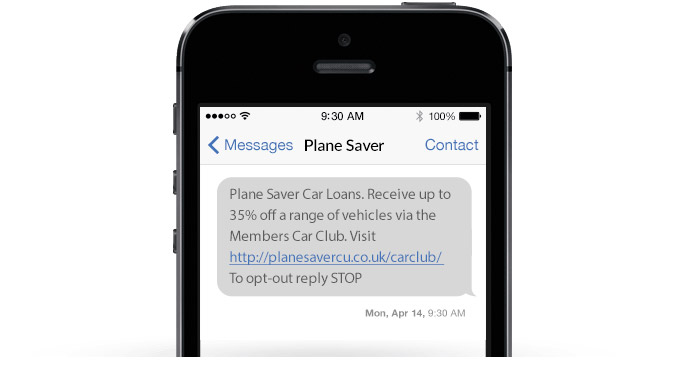 "We recently received negative feedback from an unhappy member; I was able to view which member it was and call him personally to discuss it further, resolving the matter immediately. He was so happy that I made the effort to call him back to see if there was anything we could do, and that wouldn't have been possible without the survey.
Claudia Ashcroft, Customer Service Manager
For what purposes does Plane Saver use SMS?
Anything from welcome messages to members, updates as to the progress of loan applications, and promoting additional services.
The example opposite generated had three responses in the first hour alone – all containing car loan quotes of £10,000+.
If just one of these loan applications is successful, it pays for your SMS campaign for the year, let alone the month.
Collecting feedback and making improvements
Plane Saver have automated the sending of a quick SMS survey after phone call interactions and capture feedback at the freshest point of action.
Since launching the SMS survey, Plane Saver have obtained over 95% positive feedback, with one response stating: "the staff are very friendly and brightened my day".